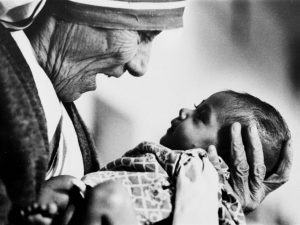 So Mother Teresa of Calcutta is now St. Teresa of Calcutta.
In the Holy Roman Catholic Church, a saint is a kind of extra-holy human – a person like you and me, but with a kind of "holy super power."
Teresa's "super power" was to pour out her life caring for the poorest of the poor – to ease their pain, to minister the love of Jesus in a tangible way to one person at a time: society's disposables, throw-aways, rejects, and castoffs.
Now I know that in order to be canonized, one must have been the agent of at least one verifiable miracle. But for Mother Teresa, her greatest miracle was to so put the needs of others ahead of her own that she became consumed with comforting and easing the pain of as many as she could of the "least of these" in one of the poorest places on earth – to the neglect of her own physical needs and wants.
Mother Teresa's life's work, and the global impact this humble nun has had on the consciousness and conscience of humankind – especially those of us in first-world countries, cannot be overestimated.
Few aspire to the Catholic Church's measure of sainthood, and fewer attain it. In fact, to aspire to it almost guarantees that one cannot reach it. Most of those who have been so designated are so humble, so completely caught up in their love for God and for others, that the "things of earth" dim in comparison.
In the Protestant church, and indeed, it seems, in the scriptures, the word, "saint," means something else entirely. The Apostle Paul begins his letter to the Ephesians, "Paul, an apostle of Christ Jesus through the will of God, to the saints (in Ephesus) who are faithful in Christ Jesus."
Paul considered all the believers in Ephesus to be "saints." The set-apart, the consecrated ones. And so it is in the church today. I'm "Saint Randy." You who are a believer in Jesus are "Saint _____" (insert your own name). Not declared to be so by an edict of the church. Rather, so designated by the Creator of the universe, and the Lord of all believers. He calls me holy, and He calls you holy.
But, of course, like most of us, I fall far short of what I envision a saint should be, and don't feel like a saint most of the time. Well…any of the time. And certainly, "holy" is not a term I would ascribe to myself.
For the last couple of decades, superhero comics, graphic novels, movies, and video games have been extremely popular. TV shows like Heroes, Marvel's Agents of Shield, Alphas, etc. show us "ordinary" people, each with some extraordinary super power. Some can fly, some can cause things to happen to others (telepathy, mind-influence, etc.), some can cause external disruptions of one kind or another (fire, manipulating time, etc.). We watch as they come to terms with their abilities and learn to control and use them.
What if you could CHOOSE a super power for yourself?
What would you pick?
I've thought about that.
I think I would choose the ability to be able to relieve pain and suffering in others – if not to completely eradicate it, at least to "dial it down" a few notches. Physical pain, mental anguish, emotional pain, heartbreak, self-worthlessness, hopelessness. To both relieve the pain, and impart hope. Wouldn't that be a great super power?
That is the idea expressed in an old song by Hoyt Axton:
"If I could ease your pain
If I could lighten your load
If I could make it just a little bit better for you
If I could just help you find
That secret place in your mind
Where the light of understanding love outshines the sun."
Well, obviously, I'm never going to have the power to alleviate pain and suffering on a global scale. I'm never going to be a "St. Teresa of Calcutta." But God may, on occasion, give me the opportunity to help one person in one situation. And then another. And then another.
I think that's what Paul had in mind when he wrote in Ephesians 2:
"For by grace you have been saved through faith; and that not of yourselves, it is the gift of God; not as a result of works, so that no one may boast. For we are His workmanship, created in Christ Jesus for good works, which God prepared beforehand so that we would walk in them."
Paul makes it sound like if we just walk faithfully in Jesus, we'll "walk right into" the good things he has planned for us to do for others.
It's about a lifestyle of kindness.
God is like that. No matter how I see life with my earthly vision, the scripture tells us, "All His ways are kindness."
I love that "practice random kindness and senseless acts of beauty" idea. There's an exuberant freedom in that. I may not be able to do everything; I may not be able to relieve everybody's suffering; but I can be ridiculously, lavishly, irrationally kind to one person. Maybe one each week. Maybe one each day. As many as God sets in my path, as often as He does.
Then there's the other side of the coin.
I can choose NOT to be UNkind when I would normally respond to a situation in anger or retaliation. When somebody cuts me off in traffic. When somebody cuts in front of me in the grocery line. When somebody speeds up to grab the close parking space they see me heading for.
Boy, do I EVER need to learn to practice kindness in THOSE situations.
Through this kind of living, we extend the "messianic mission" of Jesus, Who, after reading this passage from Isaiah 61 in the synagogue, said that it referred to Himself:
"The Spirit of the Lord is on me,
because he has anointed me to preach good news to the poor.
He has sent me to heal the broken hearted,
to proclaim release to the captives,
recovering of sight to the blind,
to deliver those who are crushed,
and to proclaim the acceptable year of the Lord."
Learning to control and use my "super power."
Learning to recognize the "good works" He has prepared for me to walk into.
Learning to live like the "saint" that God says I am.
All under the canopy of grace.
Those are the lessons I'm living to learn.