Oooh. Those Microsoft people are sneaky.
They are betting that when Windows is finished upgrading to version 10 on your computer, you'll blindly accept the defaults on the privacy settings as you're finishing up, and not check them out closely. If you do, you'll be sending TONS of private information to Microsoft on an ongoing basis!
After you accept the EULA, as you have to do with any software, the screen below will display. Notice how they hide the little link that allows you to choose your own privacy settings: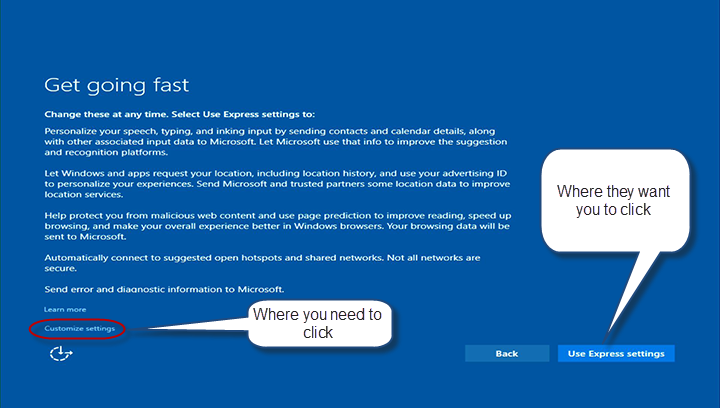 I strongly encourage you to click on "Customize Settings," so that you can choose one-by-one each privacy setting according your own preference and level of personal comfort.
The question really boils down to this:  exactly how much do you really want Microsoft to know about where you are, what you do, and how you use your computer and the Internet.
If you click on Customize Settings, you'll get lots of options with on/off sliders. I pretty much turn them all off. You may feel differently.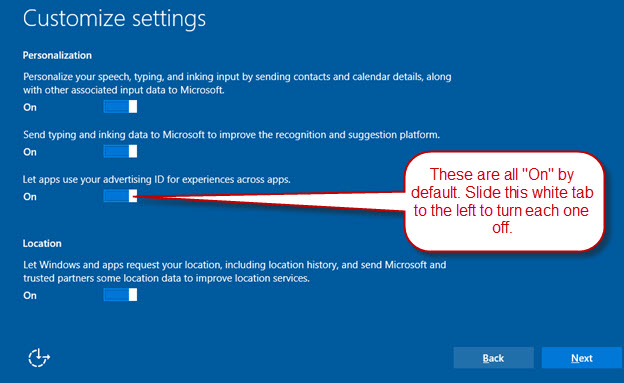 You can read more about what each of the privacy settings does in this article.
On the next screen, I do use "SmartScreen" and I do let my computer send error and diagnostic information to Microsoft. This helps them solve issues and fix problems.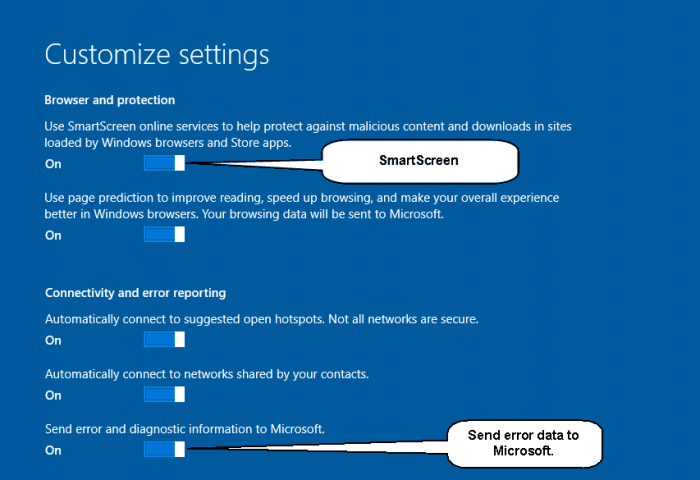 Then you get to decide whether to use the "personal assistant," Cortana (a sort of Siri equivalent). It's a nice feature, but you have to trade a lot of your privacy to use it.
But what if you've already upgraded, and you already went with the "Express" settings?
You can change them back, one by one. It will take a little time, but, in my opinion, it's something that you really need to do. The process is described step by step in this article.
There is an app that supposedly keeps disables all Windows 10 tracking, but the "word on the street" is that it is loaded with adware. I'd steer clear of it.
Don't let Windows 10 steal your privacy. You have the power to decide for yourself how much you want Microsoft to know about you.