They all do it. The software giants create apps and functionality you come to love (or become  addicted to) and then, on down the road, they pull the rug out from under you by discontinuing them.
The official phrase is, "certain functionality has been deprecated."
Windows 10 is no different. Microsoft "gaveth" and now Microsoft "taketh away." (With apologies to King James.)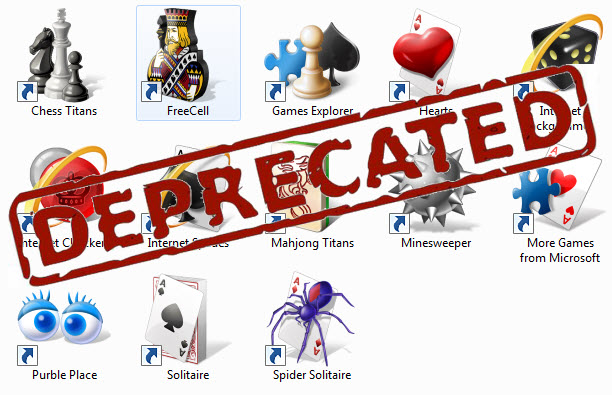 Once you start using Windows 10, you'll notice that a few things are missing.
Some, like Windows Gadgets, a holdover from Windows Vista, were never really all that cool anyway. Very few of us sit and stare at the Windows desktop. Windows Media Center was useful to some, but, again, for most, not an app that will be greatly missed.
But there are a couple of things that LOTS of people will miss. Here are the two most notable of those:
Windows 10 does not include a way to play DVD videos.
Windows 10 removes the good old games of Windows 7, like Solitaire, Minesweeper, and my personal favorite, Spider Solitaire. (A new Solitaire and Minesweeper come with Windows 10, but they have advertising that you have to pay to have removed.)
Here's how you can get that functionality and those apps back.
DVD Playback
Install a free third-party app with that functionality. The one that comes most highly recommended is VLC Player for Windows. It will also play CDs, etc.
Go to this page.
Click on the download button on the page (if you have Windows 10 64-bit, you can [but don't have to] download a 64-bit version by clicking the dropdown next to the Download button and choosing it). If you don't understand that part in parentheses, don't worry about it.
The file will be downloaded to your Downloads folder. (Use File Explorer from the Start Menu to get there.)
Double-click on the VLC file listed in the folder, and run the installation program.
Pop a video in your DVD drive and enjoy.

Windows 7 Games
Click on this link.
Click on the blue text that reads, "Download Windows 7 Games for Windows 10."
DO NOT click on any other links on that page. (See below.)

In a minute or so, your download will arrive in your Downloads folder in the form of a zip file.
Right-click on the file, and choose "Extract All."
Accept the defaults and "Extract" the contents of the zip file.
Run the setup program and pick the games you want installed.
Once you've installed them, you should find them in the Start Menu under All Apps
See? Now you have your stuff back, and now you have all kinds of new ways to waste your time! Or maybe I should say, "old" ways. You're welcome.