[NOTE: This article has been updated. Please see new material at the end of the article.]
To misquote that wise old sage, Mick Jagger, you can't always eat what you want.
And nobody knows that better than those of us living with various kinds of dietary restrictions. But in the last year or so, some promising products have come on the scene to make those restrictions, for some of us, a little more sustainable. And they've come in the form of a food that many of us love: ice cream. (This should not come as a big surprise because I sort of hinted at that in the title of the post.)
First, a product that's entirely diabetic-friendly: Halo Top Ice Cream.

Halo Top is a product of Eden Creamery LLC of Los Angeles, CA. And thus far, this ice cream is completely unique. Other than the lactose that naturally occurs in the milk, this ice cream is sugar free. It is low-carb, low-fat, gluten-free, and high protein. But it is very tasty.
Halo Top, which comes in 28 flavors, is sweetened with erythritol, a naturally occurring sugar alcohol, and a little bit of stevia, a natural plant-based sweetener. The nutritional numbers, in comparison with other ice creams primarily sold in pints, are extremely impressive. Here is the comparison of Halo Top Vanilla Bean with Haagen Dazs Vanilla: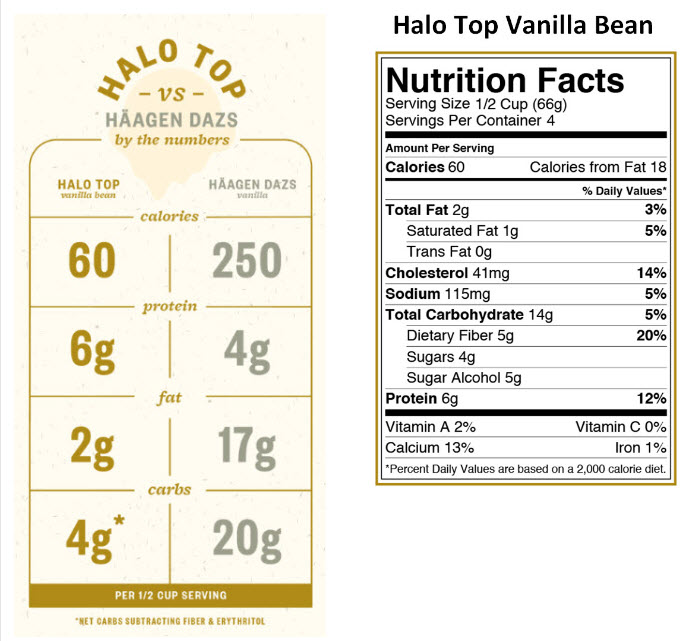 In a ½ Cup serving of Haagen Dazs, there are as many calories as an entire pint of Halo Top. The sugars are not shown in this chart, but for the Chocolate flavor, for example, the Haagen Dazs has 19g of sugar to Halo Top's 4g. Please note in the left hand chart above, that the comparison of carbs uses the Atkins formula for "net carbs." Net carbs = carbs minus both dietary fiber and sugar alcohols. Haagen Dazs contains neither fiber nor sugar alcohols. All these numbers vary, of course, by flavor, but in every case they are astonishingly low in comparison.
Now let's talk about taste, texture, availability, and price.
If you're looking for a creamy ice cream, Halo Top is not going to win any prizes. It freezes hard, and says right on the container that you need to let it thaw for a few minutes before serving. But if it's really important to you to control your blood sugar, Halo Top is without question your best option. There are 28 flavors to choose from, and none of them will kick up your blood sugar. Because of the erythritol, a sugar alcohol, Halo Top has an authentic sweetness that is a "truer sweet" than artificial sweeteners, and the product is pleasantly flavored, so the taste is good. My personal favorite is the Chocolate. But their line has exploded to 28 flavors, many of which are new, so there are many I haven't tried.
One note on erythritol – all sugar alcohols tend to have a bit of a laxative effect, but this one seems less prone to this than some of the others (especially xylitol). Also, many people experience a "cooling sensation" from the erythritol – somewhat like you would get from a mint or menthol, but, for me at least, this is not very pronounced.
Many of the larger chains are carrying Halo Top now, including Kroger, the dominant grocery chain in my part of the world. Whole Foods also carries it. The price (Oct. 2016) can vary from $3.99 on sale to $5.99 per pint, so it is a little pricy. But if it helps you stay on track and reduces your temptation to eat the sugary regular stuff, it may be well worth it.
For those going low-carb or low-calorie, or certain other diet approaches, Breyers has a couple of fairly new products that may be of some help. While not as entirely diabetic-friendly as Halo Top, these products are a huge step up in palatability and creamy texture. The Breyers brand is, of course, well known and widely available.
One the fairly new Breyers lines is the CarbSmart brand of products, which includes vanilla and chocolate ice creams, and three different flavors of ice cream bars – Fudge Bar, Vanilla Bar (chocolate covered), and Vanilla and Almond Bar (also chocolate covered). The ice cream (as opposed to the bars) is much more economical than Halo Top, as it comes in the 1.5 quart size. The price for this size is about the same as for Halo Top's pint.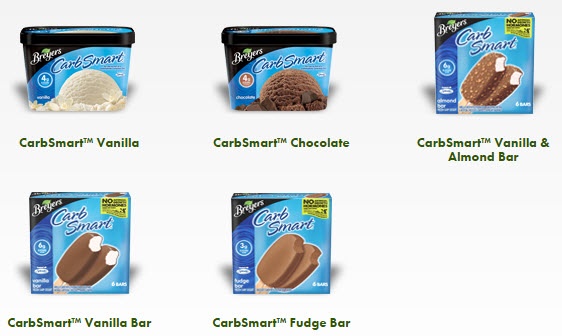 The CarbSmart Chocolate has 110 calories per ½ Cup serving, 4g net carbs, and 4g sugars. It is sweetened with sorbitol (another sugar alcohol) and with Splenda (sucralose) artificial sweetener. Splenda has gotten some bad press (though not as bad as NutraSweet), due to possibly harmful effects noted in lab rats given massive amounts on a daily basis. So if you keep lab rats, please be conscientious and refrain from giving them massive amounts of Splenda.
Again, please note my warning concerning the laxative effects of sugar alcohols. Some have reported stomach distress. That has not been my experience. This varies widely from person to person, so only by trying it will you know what effects, if any, it may have on you.
For you serious low-carbers monitoring your ketosis, you'll need to experiment to see how CarbSmart products will affect that. Close monitoring of portions may be necessary. Or you may want to give it a pass altogether.
The creaminess, flavor, and taste are truly outstanding! Really, really good.
The other Breyers line that may be of interest is the No Sugar Added line. My personal favorite is the Salted Caramel Swirl (with toffee bits), but there are four other flavors: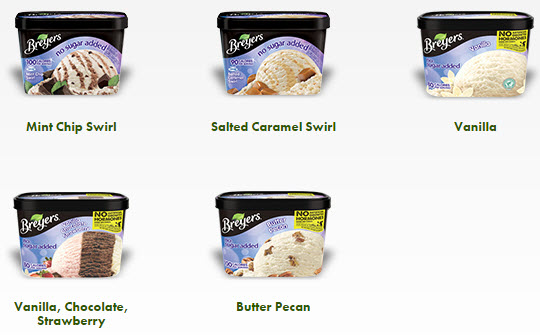 The Salted Caramel Swirl runs just 90 calories per ½ Cup serving, with 6g net carbs, and 4g sugars. This line of products is sweetened with maltitol (yet another sugar alcohol) and Splenda brand (sucralose) artificial sweetener. It is my favorite of all in terms of taste and creaminess, but may not be the best choice for low-carbers. Use your best judgment.
As a Type 2 Diabetic, these products have allowed me to enjoy an occasional tasty treat without elevating my blood sugar. And that makes it a little easier to sustain other dietary restrictions.
Each of us is different, so make sure you use these products judiciously, if at all. All of this information is presented merely to make you aware of some new options, and is not intended in any way to be any kind of nutritional recommendation. Only you, in conjunction with your doctor and/or nutritionist, know what you should or shouldn't eat. And this post is not intended to instruct you in that regard.
May your blood sugar be normal, your eating healthy, nutritious, and enjoyable, and your life filled with blessings!


Update (July 2018)
Kroger has added a couple of new options that you may be interested in.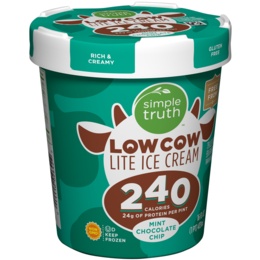 One is a line of "lite" ice creams that competes toe-to-toe with Halo Top. It only comes in pints, and has similar calories and net carbs to Halo Top. It is a Kroger store brand, under their "Simple Truth" name. It is called Simple Truth Low Cow Lite Ice Cream. I have tried a couple of flavors. The consistency is like Halo Top — you have to let it sit out and thaw a few minutes before you eat it. I think it is a little bit creamier and more flavorful than Halo Top, and typically costs $1.00 to $3.00 less. Halo Top has the better variety, with a whopping 28 flavors, whereas the Kroger Simple Truth currently offers just 6.
You can watch a comparison video Here:
Those who are on a program to maintain prior weight loss, but still need to watch carbs and/or sugar, will be interested in the second new line, Kroger Deluxe Churned Lactose Free Light Ice Cream (No Sugar Added). Texture, flavor and creaminess are MILES ahead of Halo Top and its new Kroger competitor, but it is significantly higher in carbs. The available flavors are also more complex, and include Rocky Road, Peanut Butter Fudge Swirl, Chocolate, Cherry Cordial, Southern Crunch Butter Pecan, And Vividly Vanilla. The flavor and consistency of this line is stunningly good! The Rocky Road, for example, has 120 calories per 1/2 cup serving, and 9 grams net carbs (carbs minus fiber and sugar alcohol). One word of caution on this line — the packaging is exactly the same as their Deluxe Churned Light Ice Cream that DOES have sugar, so make sure you look for that little blue "No Sugar Added" label. The Nutrition Facts below are for the Rocky Road flavor. Enjoy!