ME: My friends are getting married and I want to buy them something nice that they want.
I see on their registry list that they want an Instant Pot.
I have NO interest in Instant Pots – zero, zilch, zip.
I just want to get them something they'll really like.
Here it is on Amazon. BUY NOW. Done.
I hope they'll be very happy, and enjoy cooking with the pot.
AMAZON: After purchasing this item, others are purchasing these seven other pots that essentially do exactly the same thing.
AMAZON:
Email – Please rate your experience buying the Instant Pot.
Email – Please rate the Instant Pot product you recently purchased.
Email – We see that you recently purchased an Instant Pot. Our programmed logic tells us that this means you love Instant Pots and want to learn more and more about them so that you can continue purchasing them often. Here are links to many more Instant Pots you may not have seen or considered.
Email – Please complete this short survey about your experience buying the Instant Pot. Your assistance will help smooth out this buying experience of clicking in two places on the screen. Thank you.
Email (two weeks later) – Here are a few Instant Pot links.
Email (weekly recommendations) – Based on your shopping history, Amazon recommends these items selected especially for you – books, CDs, DVDS, electronics, then
Instant Pot Link
Instant Pot Link
Instant Pot Link
CHROME: (Along the right-hand border) –
Instant Pot Ad
Instant Pot Ad
Instant Pot Ad
FACEBOOK: (Paid ad in my feed) – People are obsessed with the Instant Pot! Watch this short video to find out why!
FACEBOOK: Border ads –
Instant Pot Ad
Instant Pot Ad
Instant Pot Ad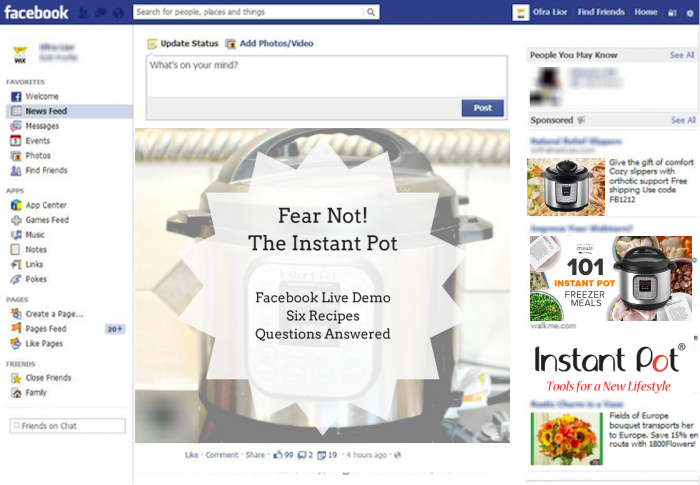 INSTANT POT: Thank you for your recent purchase of the Instant Pot. We urge you to REGISTER YOUR PRODUCT RIGHT AWAY, so that we can send you a barrage of emails describing add-ons to the product, recipes you'll love, tips on not burning yourself with it, and anything else we can think of. And don't forget the warranty! We guarantee parts and workmanship until one month before this product no longer works.
JEFF BEZOS: I only passed Randy's information along to Mark Zuckerberg.
MARK ZUCKERBERG: Information? What information?
ME: But I don't even care about Instant Pots AT ALL.
I was just trying to do something nice for a couple of friends…