Let's just say life catches up with you.
You can run, but you can't hide.
You can't dodge a smart bullet.
Fried chickens come home to roost.
All those annoying platitudes.
For people of my era (somewhere between the Paleozoic and Mesozoic), a lifetime of wanton consumption of salt, grease, sugar, and junk food gets its payback  in the form of high blood pressure, high cholesterol,  and worst of all, high blood sugar. And any one of these can have disastrous effects.
Suddenly old eating habits have to give way to new "lifestyles."
For those of us with diabetes (I have type 2), or simply adopting a lower-carbohydrate lifestyle, change can be painful. Not literally, of course, but really, really difficult. Old habits die hard. And none harder than old dietary habits. (In keeping with the Type 2 diabetic motif, we'll call dietary blood sugar adjustment "die hard 2.")
So when a helpful product appears on the horizon,
and then turns out not to be a mirage,
I get really excited.
For those watching their blood sugar and carbs, I'll be posting some discoveries which are helping me readjust without taking all the fun out of life.
(NOTE: This is not an advertisement. I am simply sharing what I consider valuable and helpful discoveries on the chance that others may find them beneficial and useful.)
One such discovery is Sandwich Bros. of Wisconsin.
This company makes little pocket bread sandwiches that are very tasty, high in protein, low in calories, low in carbs, and low in sugars.
150-200 Calories per sandwich (most are 160)
7-11 Grams of protein (most are 9 or 10)
12-16 Grams of carbs (most are 12)
1 Gram of sugar
My favorites are the Angus Cheeseburgers and the Egg White and Turkey Sausage breakfast sandwich.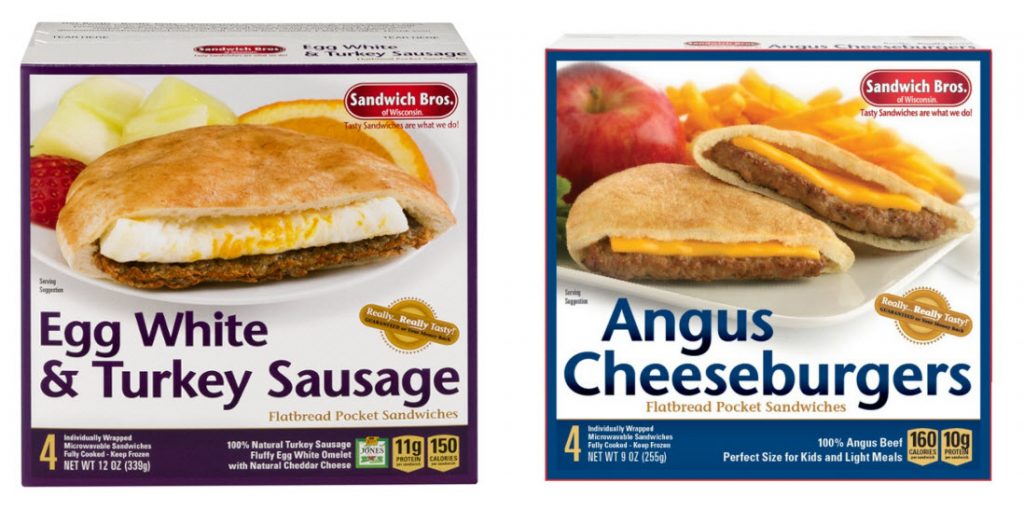 You'll find the breakfast sandwiches in the freezer section of your grocer (Kroger carries them, as do many Walmart stores), next to the sausage biscuits and Egg McMuffin wannabes.
The Angus Cheeseburgers, and other snack flavors, are with the frozen sandwiches.
Requiring less than a minute in the microwave from frozen to ready-to-eat, they're perfect for a grab-and-go breakfast or snack. And they are surprisingly tasty and satisfying. As of 7/2016, they run about $4 for a box of four, or about a dollar apiece.
*These sandwiches are NOT recommended for those watching their sodium intake. The sodium level in these sandwiches is surprisingly high.
For more information on Sandwich Bros. products, visit http://www.sandwichbros.com/.