As we enter this festive season, it seems as though there's something missing. You feel it too, don't you?
It's simply this: the Rolling Stones have never released an album of their holiday favorites. Who wouldn't want to hear Mick warble a few spasms of Silent Night or Joy to the World?
Okay, you may not be able to suspend disbelief to that extent, and I understand that. But what about some bluesy Stones-flavored Christmas makeovers? Here's what I think a Rolling Stones Christmas album would look like.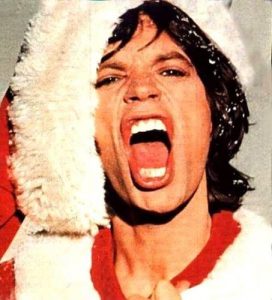 A Rolling Stoned Christmas
Brown Sugar Cookies
Sympathy for the Savior
Gimme Shelter (in the Inn)
Santa's Little Helper
Paint It Green and Red
Wild Reindeer
You Can't Always Get What You Want
(Christmas Present Blues)
Mary's Beast of Burden (The Donkey Song)
(I Can't Get No) Gift Transaction
It's Only Mistletoe (But I Like It)
Let's Spend the Night Together Shopping
(Christmas Eve Panic)
Sleet Fightin' Man (Santa's Lament)